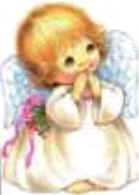 Karlee Annabelle Smith
Karlee was born on Sunday, March 5, 2006.
She weighed 1pound, 2 ounces.
God had special plans for her.
She touched the hearts of all who had the privilege of seeing her and knowing of her presence.
She earned her wings on Tuesday, March 7.
"When our hearts break for her, even when we grieve, we know that He will heal it, if only we believe..."